Fresh, local produce every day
We are dedicated foodies, which is a great thing when you work with food! We believe you will find this out for yourself when you visit out store. Our staff are very knowledgeable and have a passion for locally produced goods which is one of the reasons we have such a great range of local products in our store.
We are always keen to receive feedback and will always do our very best to make sure your experience with our store is a great one!
Our departments
GROCERY
A peek down our aisles shows that we have a huge range of everyday groceries, local goodies, exotic gourmet needs, international and imported ingredients and a fantastic range of gluten free and health giving products.
We also have a huge range of local products such as Olive Oils, Dukha, Jams, Spreads also local Free-Range eggs as well as Ostrich Eggs when in season. We will always gladly carry your groceries to the car and offer a discount to Senior Citizens.
DELICATESSEN
Our Deli Department offers an extensive range of Local, Australian and international delicacies. We stock a huge range of local and international cheeses as well as cured meats, real ham off the bone and an extensive range of antipasto. There are also a multitude of shelf lines including locally produced pastas, cooking oils, sweets, gluten free and a large range organic products.
We offer a great range of fresh meals in our Deli including freshly made rolls and also have chefs that produce a wide range of ready to go meals and all of our salads. There is also a range of Frittatas, Pizzas, Filo Wraps and much more!
Planning a day out? Have a special occasion or just feeling peckish? Deli hampers and platters are also a specialty. We can make them for all occasions.
Meat
Our meat is backed by IGA's 200% fresh guarantee which means we guarantee our meat to be the freshest and best quality available or we'll replace the item and give you your money back! Now that's confidence!
We offer a range of pre packaged cuts, however as our meat preparation room is onsite, our Butchers will always cut to order or slice bulk buys, while you keep shopping and we can also provide quotes for bulk or specialty orders.
Our convenient hours mean that you no longer have to resort to take away if you're late home from work as tender steak, chicken breast, pork and lamb is always available!
Fresh Produce
We believe in providing the freshest possible produce, which is why every market day our own fresh produce team hand select only the freshest and best quality produce for River Fresh IGA customers.
We know exactly what our customers want and expect and always make sure we have a great range of lcally grown seasonal produce at competitive prices.
As with everything in our store we believe that fresh is best, which is why wherever possible we source locally grown produce. This way you enjoy the freshest possible product at a great price and your money stays in the region! Everybody wins!

Shop online for fresh produce.
Dairy/Freezer
We have a huge range of dairy and frozen products covering all the usual suspects and then of course our fantastic range of what we like to call 'extras'.
These are products you wouldn't normally expect to find in a supermarket chiller or freezer such as gluten free, organic, local gourmet and international offerings.
We are always on the look out for new products and tailor our product range to suit our customers. So if there is ever anything you would like us to stock, then don't hesitate to see any of our friendly staff or you can also request a product online.
Shop online for dairy or freezer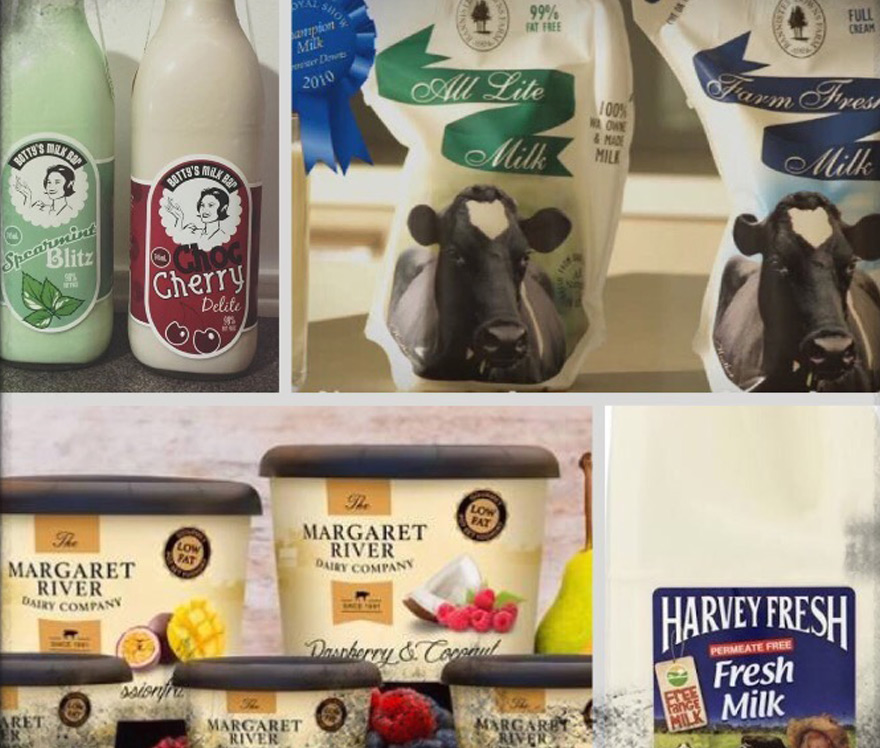 Local dairy products from the Margaret River Region